Address:
Highfield Nurseries
Slip Lane
Old Knebworth
Hertfordshire
SG3 6QG
Contact: Mal Pullan
Phone: 01438 813444
Fax: 01438 816556
E-mail: This email address is being protected from spambots. You need JavaScript enabled to view it.
Web: www.pastagarofalo.it
ABOUT GAROFALO UK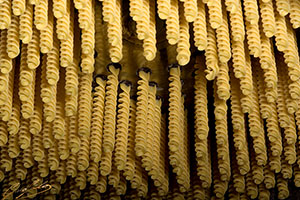 PASTA GAROFALO is unique because it makes pasta as it should be done.
Since 1789 Garofalo has been making pasta in Gragnano near Naples in Italy.
The strength of Garofalo is the ability of preserving this artisan knowledge on an industrial scale. This is its uniqueness, the feature that makes Pasta Garofalo different from every other pasta.

Pasta Making the Garofalo way
Raw Materials
Pasta is made from simple ingredients; durum wheat semolina and water. With only two ingredients it would be difficult to make a premium top quality pasta if the best wheat was not used.
Garofalo, premium Italian pasta makers, use only robust durum wheat semolina in its Signature pasta, which is high in protein and makes it suitable for double cooking. Garofalo signature pasta is therefore perfect for any restaurant wishing to serve an authentic al dente Italian pasta dish to their customers.
Garofalo suggests the following method for double cooking its Signature pasta to get the best al dente result.
Cook in plenty of salted boiling for half the cooking time specified on the bag
Drain the pasta and place on tray Cool quickly, using a blast chiller if possible.
Add a dash of oil and store in a fridge for up to one night To serve refresh in boiling water for 30 seconds.
By following the above method Garofalo have scientifically proven the force required to cut its single cooked pasta or its double cooked pasta remains the same, therefore the texture of the pasta served from either cooking method remains al dente.
Bronze Die
Garofalo pasta is made using a bronze die, which is the original way to extrude the dough to make the different pasta cuts. Bronze dies have been used since the 1700, long before today's alternatives of Teflon and plastic dies existed. Pasta made using the traditional bronze die has a slightly rough texture and a porous surface that holds the sauce. Garofalo has over 72 pasta shapes across all the ranges including traditional, whole wheat and gluten free ranges, all are stocked in the UK for immediate delivery through a number of UK wholesalers.
For a full range of shapes and ranges made by catalogue click on this link http://pastagarofalo.it/webapp-catalogo/?p=categorie&area=europa